About the Clouded Leopard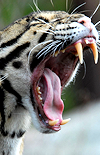 Clouded leopards have a tan or tawny coat, and are distinctively marked with large, irregularly-shaped, dark-edged ellipses which are said to be shaped like clouds. This unique appearance gave the cat both its common and scientific species name--nebulosus is Latin for "cloudy". The clouded leopard was confusing to scientists for a long time because of its appearance and skeleton. It seemed to be a cross between a big cat and a small cat. The average clouded leopard typically weighs between 33 and 51 lbs. Clouded leopards have a heavy build and, proportionately, the longest canine teeth of any living felid--2 inches, about the same as a tiger's. These characteristics led early researchers to speculate that they preyed on large land-dwelling mammals.


As might be expected from the fact some of its prey lives in trees, the clouded leopard is an excellent climber. Short, flexible legs, large paws, and sharp claws combine to make it very sure-footed in the canopy. The clouded leopard's tail can be as long as its body, further aiding in balance, giving it a squirrel-like agility similar to the margay of South America. Surprisingly, this arboreal creature can climb while hanging upside-down under branches, and descend tree trunks head-first. In captivity, the clouded leopard routinely hangs by its hind legs using its long tail for balance, and runs head-first down tree trunks. Little is known about its behavior in the wild, but it is assumed from this behavior that a favored hunting tactic is to drop on prey from the trees.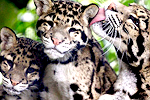 Captive breeding programs met with little success in their early stages, largely due to ignorance of courtship activity among these cats in the wild. Experience has taught keepers that introducing pairs of clouded leopards at a young age gives opportunities for the pair to bond and breed successfully. Introducing pairs as older adults may cause the animals such stress that the male may kill the female. Normally, the clouded leopard is not an aggressive animal, except to prey. Modern breeding programs involve carefully regulated introductions between prospective mating pairs and take into account the requirements for enriched enclosures. Providing these animals with adequate space to permit climbing stimulates natural behaviour and minimizes stress. This, combined with a feeding program that fulfils the proper dietary requirements, has promoted more successful breeding in recent years.


Females give birth to a litter of two to four cubs after a gestation period of about 85 to 93 days. Initially, the young are blind and helpless, much like the young of many other cats, and weigh from 4.9 to 9.9 oz. The young can see within about 10 days of birth, are active within five weeks, and are fully weaned at around three month of age. They reach sexual maturity at two years of age, and females are able to bear one litter each year. Adults in captivity have lived as long as 17 years. In the wild, they have an average 11 year lifespan.
--info from Wikipedia

a good shot of the clouded leopards infamous "cloudy" spots